President's Day Camp 2018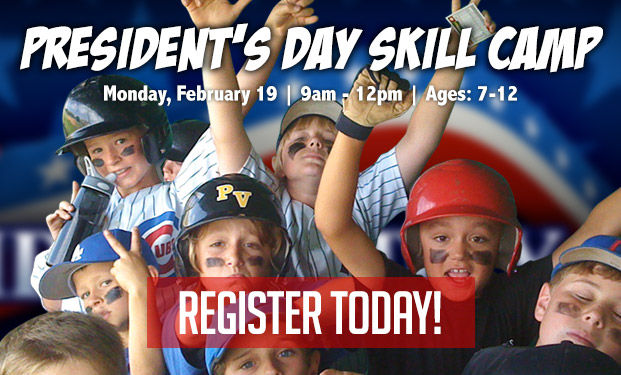 Date: Monday, Feb 19, 2018
Location: RHLL (link to location map)
Time: 9am – 12pm
Ages: 7-12
Tuition: $60
Description: Join Coach Spring for some serious baseball fun on the day off from school. Tons of skill work (hitting, pitching, defense) and live game situations.
ENROLLMENT IS LIMITED!
Camp Philosophy
Our goal is for all campers to have a fun and safe experience while focusing on team play and individual skill development. The camp will concentrate on throwing & catching drills and techniques, specialty position practice (pitching, catching, infield, and outfield), base-running, live hitting, hitting drills, and daily live games. It is our belief that young ballplayers can have loads of fun in a positive environment while also learning to the play the game from professionals. Attitude, effort, teamwork, leadership, and sportsmanship will be stressed throughout the week, while campers learn correct baseball fundamentals.
Attitude & Effort: Your camper will learn to respect and honor the game in an environment where success is measured by effort and teamwork, and not by winning and losing.
Leadership: Campers will be challenged to act like leaders by supporting and respecting everyone in camp: teammates, coaches, and umpires alike.
Skill Development: All participants will leave camp with a high level of understanding of proper technique in all areas of the game. By incorporating drills and competitions developed over a lifetime of playing and teaching the game, campers will gain a firm grounding in the fundamentals to build their baseball careers.
Become a "Student of the Game": Every camper will be challenged to maximize his or her athletic potential while being encouraged to go above and beyond individual "comfort" levels. By learning new drills, techniques, and philosophies, we hope that all players will become "students of the game." It is for this reason that campers are encouraged to play many different positions during camp.
Important Camp Info
• Players should bring their own gloves to camp.
• Catchers should bring their protective cups and catching equipment, if they want to catch.
• Players should wear a hat and sunscreen.
• Bats are encouraged, but not required.
• Baseball pants and socks are encouraged, but not required.
• Campers are responsible for packing their own lunch, snacks, and drinks.
• Plenty of water and shade will be available at all times.
• Sorry, no refunds or make-ups for missed days of camp. Should you register and be unable to attend camp, credit may be applied to future camps and clinics (excluding private lessons).